International Schools Journal
ACS Athens, the publisher of the International Schools Journal since 2019, has ceased the publication of the long standing and prestigious journal. The Spring 2023 issue is our final one. Although no new issues will be published, the e-shop will continue to operate, making available for a la carte purchases to our readers all the previous issues in electronic or printed form (if available). Thank you to all our subscribers and readers all these years! Special thanks to our authors and editorial team for preserving the ISJ legacy!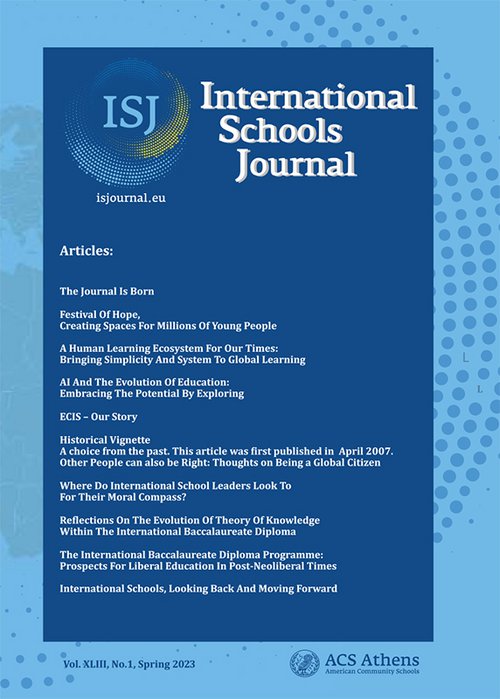 Spring 2023 Issue
According to the late President of ACS Athens Stefanos Gialamas, 21st century educators should be true believers that K-12 educational institutions not only have the ability to generate new knowledge related to teaching and learning, but also have the ability to become innovators and researchers, creating new pathways for the future of education. Furthermore, current educational trends, as well as the uncertainty of rapid change globally, require a dialogue between K-12 educational institutions and higher educational Institutions in order to best prepare tomorrow's citizens for unknown pathways in jobs and careers. Partnerships between K-12 and higher education must strengthen in order to provide meaningful preparation of students for largely unknown futures. Such partnerships ensure continuous adult development for educators as well as encourage lifelong learners in students. Dialogue, for example, regarding innovation at K-12 educational institutions could highlight how such innovation is reflected or related in higher education research and teaching and learning. In addition, now more than ever, there is a need for meaningful dialogue between K-12 and higher education institutions regarding professional development and growth of faculty, professionals, and administrators.
Indeed encouraging and enhancing the dialogue between K-12 and higher education institutions to include content development, methodology and action research within schools, requires well thought out professional development that will encourage faculty and administrators, as agents guiding change, to collectively move institutions toward a desired goal.
The International Schools Journal has been the forum for educators, professionals and administrators from K-12 and higher education institutions to connect, collaborate and enhance such dialogue for the benefit of all learners.