Spring 2022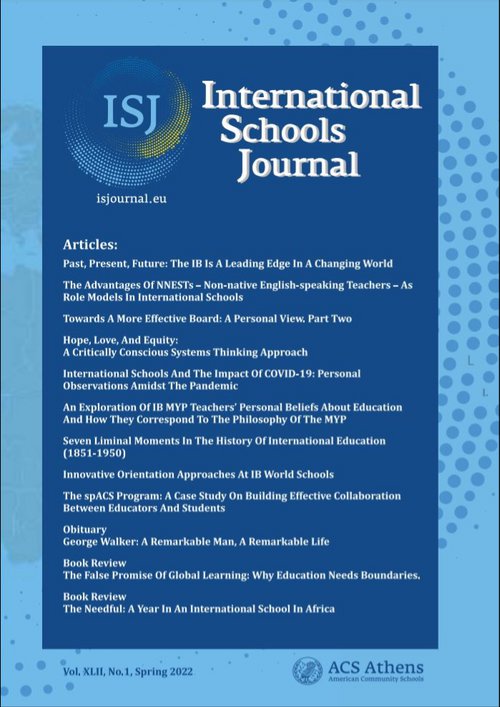 Articles:
Past, Present, Future: The IB Is A Leading Edge In A Changing World / Olli-Pekka Heinonen
The Advantages Of NNESTs – Non-Native English-Speaking Teachers – As Role Models In International Schools / Maurice Carder
Towards A More Effective Board: A Personal View. Part Two / Peter MacKenzie
Hope, Love, And Equity:
A Critically Conscious Systems Thinking Approach / Amy Lassiter Ardell, Margaret Sauceda Curwen, and Kevin James Stockbridge
International Schools And The Impact Of COVID-19: Personal Observations Amidst The Pandemic / Robert Harrison
An Exploration Of IB MYP Teachers' Personal Beliefs About Education And How They Correspond To The Philosophy Of The MYP / Mary. C. Kelly
Seven Liminal Moments In The History Of International Education (1851-1950) / Bob Sylvester
Innovative Orientation Approaches At IB World Schools / Rick Fitzpatrick
The Spacs Programme: A Case Study On Building Effective Collaboration Between Educators And Students / Antonios Karampelas, Maira Pyrgioti, Dimitrios Athanasopoulos, Barbara Simonetou, et al.
Obituary George Walker: A Remarkable Man, A Remarkable Life / Mary Hayden and Jeff Thompson
Book Review
The False Promise Of Global Learning: Why Education Needs Boundaries. By Alex Standish (2012) London: Continuum / James Cambridge
The Needful: A Year In An International School In Africa By Peter Mackenzie The Book Guild Ltd. 2022 / David Wilkinson